You can't go wrong with denim. It is classic and always in style. And, it is one of the few things that we all have in our closet that works for every season. Denim is also super versatile and easy to dress up or down! Here are a few of the ways that I plan to incorporate denim into my summer wardrobe...
the denim dress
There are so many great styles of the denim dress. I love this utility style from Gap. It's perfect for throwing on over your swimsuit for a day at the beach! Or pair it with some cute, colorful flats for lunch with the girls. You could even dress it up for a night out with some sky high heels, a pile of gold bracelets, and a funky clutch! If you want to go a bit more daring, I am also loving this peplum style dress from Marc Jacobs. Adorable.
denim overalls
Overalls are back with a vengeance! They are everywhere! And while I was hesitant at first, I just know I am going to have to buy a pair this summer. It might seem daring or feel out of your comfort zone to don a pair at first, but they are so comfortable! And this floral Free People pair from Macy's are way too cute to pass up. And if you want a bit more of a cool, rugged look, this style by Ralph Lauren (also found at Macy's) is just what the doctor ordered.
the chambray shirt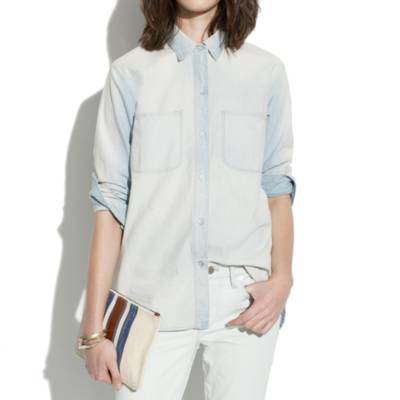 Every girl need a chambray shirt in their closet. They are classic in style and they literally go with everything. Tuck one into a floral mini skirt with a bright pair of heels and you're ready for a night on the town! Or pair with some colorful skinnies and flats for the perfect summer daytime look! There are seriously so many ways to wear a chambray shirt. This ex-boyfriend style from Madewell is perfection and I want it in my closet.
the denim jacket/vest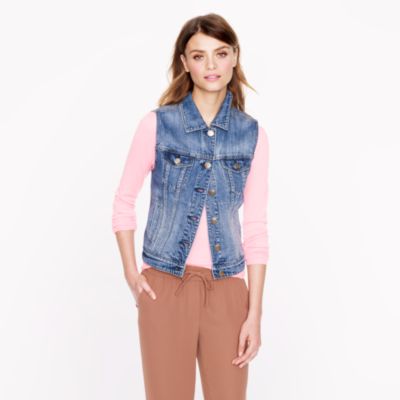 The denim vest and/or jacket (or both! why not?) should be another staple in every girl's closet. I am absolutely loving this J. Crew vest. It would be the perfect topper to a sun dress and flip flops for an easy, put together ensemble. Create a classic but edgy look by pairing a denim vest with a black maxi skirt and a white tee. And this jcp denim jacket would be so cute over just about anything!
the denim skinny jean
This is my go-to style for jeans. I love skinny jeans. This pair from H&M is the perfect light blue wash. Skinnies go with anything from a long, flowy tunic, to a funky metallic tank top, to a sweet polka dot peplum, and everything in between! And there are so many fun, new styles of skinny jeans. Try these adorable polka dot skinnies from Madewell or make a statement in this skinny skinny style in a bright paprika color (also found at Madewell).
denim shorts
It wouldn't be summer without the perfect pair of denim shorts. These bright yellow Jessica Simpson shorts (found at Buckle stores) are so much fun! I am also loving this relaxed style of denim boyfriend shorts from Madewell. I am not sure you could ever get me out of them! This vintage-inspired striped pair are the perfect ones for trying out the pattern mixing trend, which is also huge this season!
How will you be wearing denim this summer?
xoxo, two birds